Introducing our Reusable silicone Swab. The swab made from all-natural silica sand.
The soft silicone tips provide that feeling we all know and love by cleaning our ears of all that nasty wax.
Just like an ordinary cotton swab, except without the waste!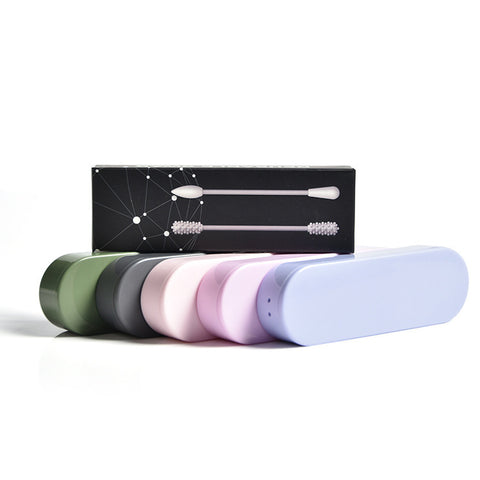 FEATURES:
HIGH QUALITY & REUSABLE: Both head of this reusable cotton swab are made of silicone. It is super soft and very delicate, you can reuse it after washing. This washable cotton swab is easy to use and suitable for babies, children, adults and seniors.
WIDE RANGE OF USES: Our silicone swabs have 2 different kinds, one for cleaning, the other for remove extra eyeliner, eyebrow, eyeshadow and makeup as a makeup remover cleansing brush of eye. Meanwhile,there are many other uses, including cleaning up brow mapping, permanent makeup, manicure, makeup tool or other model making, ceramics, jewelry, fabric decorations, hobby, arts crafts.
LIGHT AND PORTABLE: Reusable silicone swabs is lightweight and portable with well-packaged. They come with a storage box that weighs only 20 grams each. You can carry it in your pocket and take it anywhere for your beauty care and clean needs.
EASY TO CLEAN: The silicone swabs are easily cleaned with some water and a small amount of soap. At the same time, its storage box can also avoid dust and the loss of silicone swabs.
INNOVATION OF GREEN ENVIRONMENTAL: It's reported that 1.5 billion cotton swabs will be used by human every day, really it's large waste regardless existing resource or environmental, this silicone swab is reusable and very easy to clean and store, and is very environmentally friendly.
SPECIFICATIONS:
Material: 

silicone

Length: 72mm
Package Include: 1 x Reusable silicone Swab
NOTE:
Do not insert swab into ear canal. Entering the ear canal could cause injury. If used to clean ears, stroke swab gently around the outer surface of the ear only. Keep out of reach of children.